Amigo Petite Bug Rug Fly Sheet
10 reviews
Ensure your mini is comfortable, happy and relaxed this summer.
Your mini will be relaxed and happy this summer in the Amigo Petite Bug Rug Fly Sheet. Ultra soft and breathable, this fly sheet was designed for the comfort and protection of your miniature horse. The knitted polyester fabric is soft, absorbent and strong with sun reflecting properties.  
Features:
Removable neck cover

Front leg arches

Classic front closure

Shoulder and mane lining

Cross surcingles

Light color to reflect sunlight
Sizes: 33" - 48"
Colors: Azure with Electric Blue and Navy (photo does not show correct color)
Customer Reviews
09/11/2019
Raven F.
United States
Like
I do like this fly sheet....it works great. I have one for my 13 hand Icelandic Horse mare and one for my 38" mini mule. I do wish it came in size 46", as 48" was too large for my mini mule and 45" is just a bit....not large enough. Not sure why it goes from 48" down to 45",and nothing in between.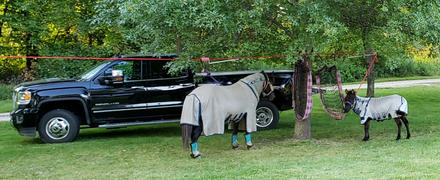 07/24/2019
Natalie N.
United States
great little fly sheet
This is a great little fly sheet, fits my miniature donkey well.
Amigo Petite Bug Rug Fly Sheet
First, let me say the quality of the garment was well made BUT the sizing must have been way off. The mini horse I bought it for is a size 39 in most companies. This item is marked 39 on the garment, the paperwork that came with it, on my order. I couldn't even put it on the mini that wears a 39. he is a dwarf so a little altering is acceptable. This was highly NOT acceptable. I ended up using it for a mini that normally wears a 48 not needing alterations. So I put it on my other mini and still had to shorten it all the way around. It was way big. It didn't make sense if he normally wears a 48 and this is a 39. Why didn't I send it back..that is just as frustrating so I altered it but the bottom line is it cost $84.00. That is a lot for a petite size sheet that doesn't fit!