Kensington SureFit Protective Fly Sheet
11 reviews
As tough and great fitting as fly sheets get!
The newest introduction to the Kensington line up, is the SureFit Protective Sheet. Besides being the best fitting sheet, the Surefit Cut features a snap-front chest closure for easier on-and-off, 2 criss-crossing removable elastic belly straps with 2" snaps and detachable elastic leg straps and a contoured fit. This revolutionary sheet offers maximum year-round protection. Textilene is a US made 1000 x 2000 Denier mesh, which is specially formulated to withstand fading, fire, mildew, soiling and wear and tear, even in the most extreme weather conditions. It is fly and insect resistant. This mesh has a 73% UV rating that prevents your horse's coat form bleaching out, and sunburns as well as being 78% air permeable, and non-heat transferring to help your horse cool during the warmer month. It keeps off the dirt and grime keeping your horse cleaner. The weave naturally grooms your horses coat reducing your brushing time especially during shedding season.
This sheet is Fly Proof, UV Resistant, Durable, Air Permeable, Soil Resistant, Wound Protection, Fire Retardant, Mildew resistant, Fade Resistant, and is made of Grooming Mesh.
This sheet can be used to layer over your winter turnouts to increase life of the turnout as well as to keep the snow directly off the waterproof blanket, giving a long life expectancy to your blanket.
Matching Neck Cover and Belly Band sold separately.
Sizes: 69" - 84"
Colors: 
Kentucky Blue Plaid
Deluxe Hunter Plaid
Deluxe Black Plaid
Lavender Mint Plaid
Deluxe Red Plaid
Black Ice Plaid
Customer Reviews
10/09/2020
KELLIE R.
United States
Perfect flysheet
This company is absolutely amazing. My first Flysheet was lost in shipping. I posted a review saying how disappointed I was. Within an hour, a representative from Performance Horse Blankets called to fix the problem. My flysheet is here and it's exactly what we wanted. Thank you!!!!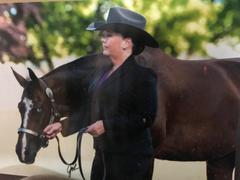 10/06/2020
Anonymous
United States
Fly Sheet Fits Perfectly and Gives Great Protection
I bought this fly sheet for my 20 year old Appendix horse who was slightly fly sensitive. The real reason I bought it was that his new horse companion decided to repeatedly bite him, sometimes so badly that I couldn't put a saddle on him. It has really helped cut back on the teeth marks and the fabric is so tough it hasn't even shown any battle scars! Oh and he's virtually fly bite free now too. It fits him perfectly, and even though it seems thick it doesn't make him too sweaty even on our 100 plus degree heat days.
09/16/2020
KELLIE R.
United States
Still awaiting delivery
I'd love to recommend this blanket, but I'm still waiting for its delivery. I chose the 5-10 day shipping option; it's been 14 days now. :(
06/27/2020
Lana S.
Canada
Love these Kensington fly sheet!
Amazing quality, reasonable shipping
09/20/2019
Anonymous
Canada
Kensington Surefit Protective Fly Sheet
Great fly sheet! Easy to use. Stays on perfectly and does the job I wanted. Keeps the fly's away and protects him from the sun. Thanks