Cashel Crusader Leopard Fly Mask with Ears
6 reviews
Dare to be different!
Show off your personality with the Limited Edition Leopard patterned fly mask.  This mask provides all the comfort and protection of the Standard Crusader Mask with Ears, but with extra style!  
Featuring the classic fit, this proven fly mask protects a horse's eyes, cheeks and forehead from flies and sun without impeding vision.  Includes soft micromesh nylon sleeves to protect the ears.
Sizes:  
Foal/Mini
Weanling/Small Pony
Yearling/Large Pony
Small Horse/Arab
Horse
Warmblood
Customer Reviews
If you're going to wear a fly mask, do it with style
Fantastic, well-fitting fly mask! The leopard print is cool and I suspect might confuse the visually-based flies. It's easy to tell apart from other fly masks. The only thing I hate is that it's made in China. At this price point, I believe it should be made here.
HP
09/08/2020
Heather P.

United States
Wonderful customer service
This product is perfect. My horse experienced a terrible insect attack and had an allergic reaction so I quickly needed a fly mask. The store noticed I had ask for overnight shipping but didn't have the exact product (without ears) so called me and offered me the other version which would ship out that day. I received the package within 16 hours with a nice little note hoping my horse would be okay. I would definitely order from them again.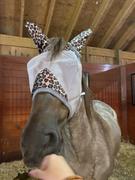 07/13/2020
Anonymous

United States
Hard To Find Patterns
I like the Cashel Crusader Fly Masks. The patterns make them fun and easier to find in the field!
06/10/2020
Sue W.

United States
So cute
Functional and cute
06/09/2020
McKell M.

United States
Excellent service, price and products!
My purchase was excellent and the service was great! The shipping g was super fast as well! This fly mask is sooo pretty and holds up super well! Worth my money!